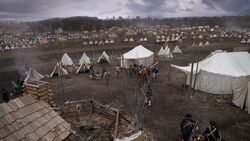 Valley Forge is the military camp in southeastern Pennsylvania, approximately 20 miles (30 km) northwest of Philadelphia, where the American Continental Army spent the winter of 1777–78 during the American Revolutionary War. Starvation, disease, malnutrition, and exposure killed over 2,500 American soldiers by the end of February 1778.
With winter almost setting in, and with the prospects for campaigning greatly diminishing, General George Washington sought quarters for his men.
Behind the Scenes
Edit
Appearances
Edit
Links and references
Edit
External links
Edit
Ad blocker interference detected!
Wikia is a free-to-use site that makes money from advertising. We have a modified experience for viewers using ad blockers

Wikia is not accessible if you've made further modifications. Remove the custom ad blocker rule(s) and the page will load as expected.